IM TRANSIT: EMBRACH-EMBRAPORT, 2017
Ortsspezifische Kunst
5 Blatt Papier, Format A4, perforiert mit Rand, Farbtintenstrahldruck
5 x 29,7 x 21 cm (11,69 x 8,26 in.)
Signiert, datiert und nummeriert mit Bleistift auf der Rückseite
Edition 1/2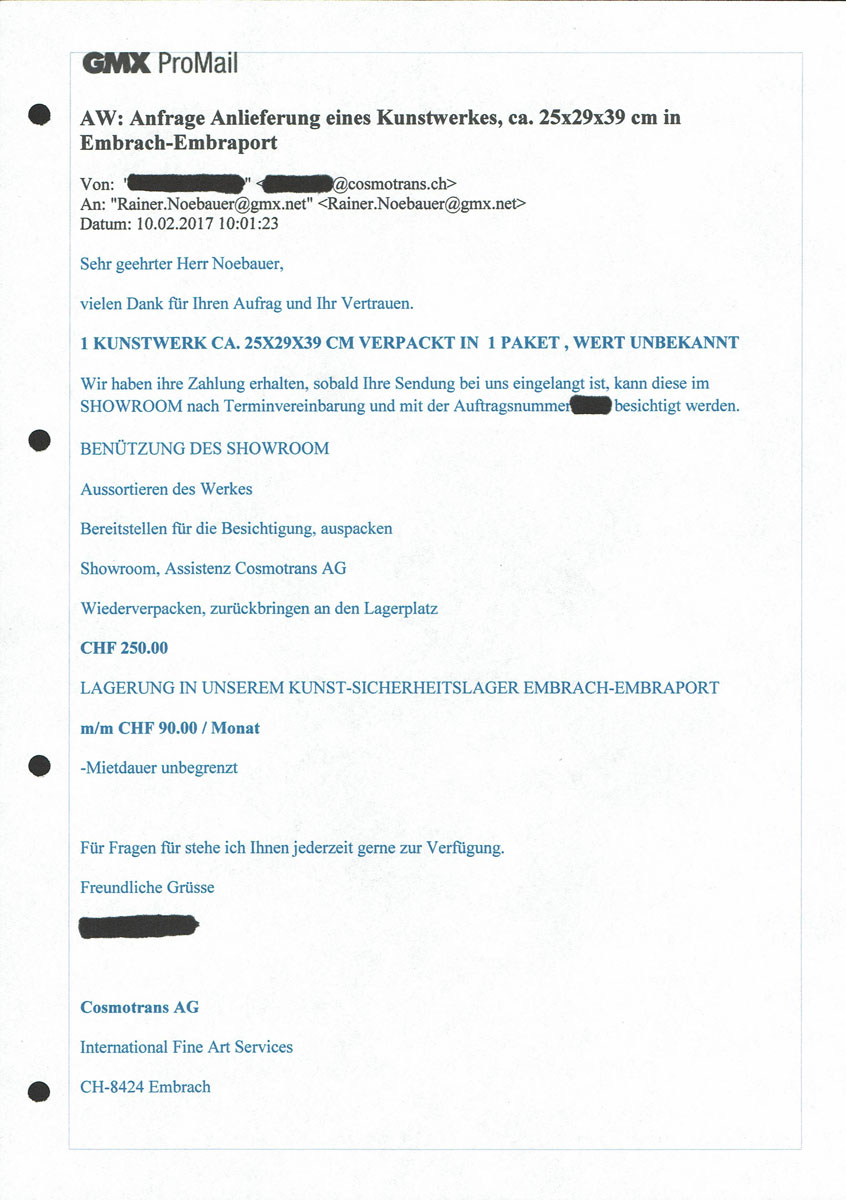 dt.
Kunstwerke entstehen, Kunstwerke verschwinden. Dies war schon immer so. Zu den skurrilsten Formen des heutigen Kunstentzugs gehört die aktuelle Praxis, künstlerische Werke in Zollfreilagern nicht nur den Steuerbehörden, sondern jeglichen Betrachter*innen zu entziehen. Für eine Ausstellung im Kunstraum DIEDIELE in Zürich schickte Nöbauer-Kammerer ein Kunstwerk in die Schweiz, welches jedoch nicht in dem Kunstraum, sondern ausschließlich in den repräsentativen Räumlichkeiten des Zollfreilagers in Embrach (Kanton Zürich) zu besichtigen war. Rechtlich gesehen befand sich das Kunstwerk nie auf Schweizer Boden. Der Künstler nutzte die International Fine Art Services der Cosmotrans AG. Das Unternehmen kümmerte sich um alle nötigen Formalitäten. In der Schweiz gibt es seit dem Ende des Bankgeheimnisses rund 240 Zollfreilager, die nicht dem Geldwäschegesetz unterstellt, anonym und mehrwertsteuerfrei sind. Um das Werk betrachten zu können, bekamen Interessierte in der DIEDIELE einen Code. Mit diesem und gegen Zahlung von 250 CHF wurde das Werk im klimatisierten Showroom des Kunst- und Sicherheitslagers Embrach-Embraport exklusiv und privat präsentiert. Ein Ritual der besonderen Art. Da die Mietdauer unbegrenzt ist, könnte Nöbauer-Kammerer sein Werk auf unbestimmte Zeit verschwinden lassen.
en.
Site-specific art
5 pieces of paper, A4 format, perforated with edge, colour inkjet print
5 x 29.7 x 21 cm (11.69 x 8.26 in.)
Signed, dated and numbered with pencil on the back
Edition 1/2
Works of art come into being, works of art disappear. It has always been like this. One of the most bizarre forms of art confiscation today is the current practice of removing artistic works not only from tax authorities but also from viewers by storing them in bonded warehouses. For an exhibition at the DIEDIELE art space in Zurich, Noebauer-Kammerer sent a work of art to Switzerland; however, the work could not be viewed at the art space but only at the representative premises of the bonded warehouse in Embrach (Canton Zurich). Legally, the artwork was never on Swiss soil. The artist used the International Fine Art Services of Cosmotrans AG. The company took care of all necessary formalities. Since the end of banking secrecy, there exist about 240 bonded warehouses in Switzerland that are not subject to the Money Laundering Act and which are anonymous and VAT-free. To be able to view the work, interested parties were given a code at the DIEDIELE. With this and against payment of CHF 250, the work was presented exclusively and privately in the air-conditioned showroom of the Embrach-Embraport art and
security warehouse. A ritual of a special kind. Since the rental period is unlimited, Noebauer-Kammerer could make his work disappear indefinitely.